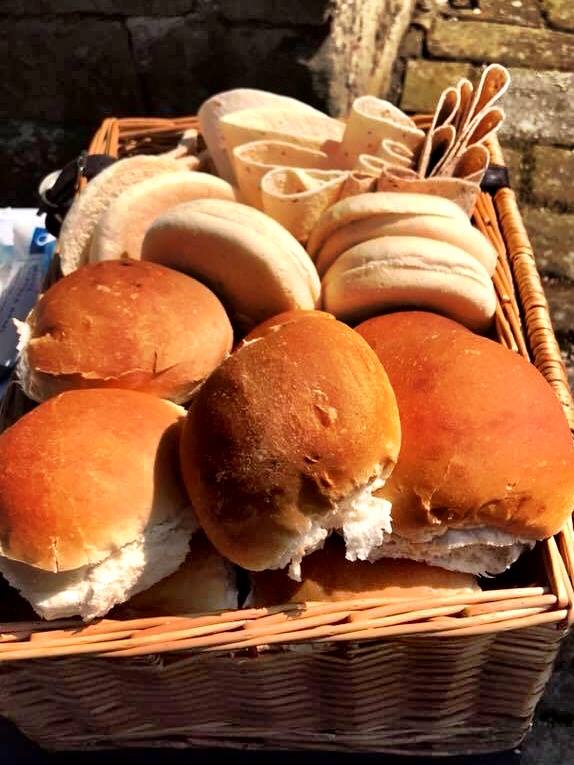 Hog Roast Kent has highly trained chefs who put on such a show with their knives and make the carving look like a work of art as when they do carve, they carve to the bone! There is no waste and the meat goes such a long way. There is something really nice about hog roasting, the taste and smell alone are so appealing but it is also the feel good factor of bringing everyone together, as it creates a wonderful warming atmosphere and gets everyone chatting. An example of this from Hog Roast in Kent is that we were once asked to cater for a corporate event, and a very stuffy event it was. Lots of guests not knowing each other and you could really cut the atmosphere with a knife, but as soon as we placed the pigs on the machines and the pigs were spinning for all to see people started to gather around the machines and they began to chat to one another and soon the room was filled with laughter. You could just sense the tension lifting in the air, it really was amazing to see and that is the effect that hog roasting has. There are countless events we have been to where the atmosphere has been quickly changed with the sight of the pig, we call him the life saver as we can always rely on the pig to save the day.
We offer exquisite packages and you too can be a caterer and we will help you achieve that too! You can hire one of our machines and you too can be a caterer, and we will let you into a secret it is really simple and you don't need to be a world class chef to hog roast – anyone can! Each year we get more and more requests from individuals wanting to become hog roasters and we are more than happy to help; we will deliver the machine anywhere in the UK and our costs are very reasonable too. We have some who are now making it a business and regularly hire from us, it is nice to see people becoming a success and we do all we can to make sure that if starting a small business that they will be successful and we give tips and advice on all aspects of hog roasting. We are often asked the secret of our success and to be honest we don't really know, all we do know is that we are always polite and always go out of our way to help customers and we are so reliable no job is ever too big or too small for us. Come rain and heavy snow we will always be there, and the weather has never stopped us from getting to an event. We are always well prepared and this has given us good standing in the catering world and to be honest a good name is everything in this business. It could also be the fact that we cook the most delicious food in the land…
As the providers and purveyors of the nations finest hog and spit roast catered events, its not the commuter belt which ultimately interests us – even though many of those who use and utilise it are our customers. Moreover, for us, it it the fact that Kent is the provider when it comes to produce. After all, it wasn't nicknamed 'The Garden of England' for nothing. Within its soil is found the perfect balances of dark peaty seams with light sandiness to facilitate the growth of some of the most sumptuous vegetables available anywhere in the world. We love serving them and our talented and fully trained chefs make full use of them when crafting their accompanying dishes at the events and functions for people all over the region, for example in Hog Roast Marden. Along with this, the rich and varied varieties of Apple which still grow in the region (they wouldn't if the dreaded supermarkets had their way) allow us too concoct some of the most lovely and varied types of apple sauce around – which as you all know fits hog roasted pork like a hand-in-a-glove. By drawing on the produce of the region, our caterers can create the most delightful menus – and we haven't event started about the meat! In places like Hog Roast Littlebourne – sourcing meats is an absolute joy, allowing us to roast with true confidence. As we are so confident in the ingredients we source from areas such as Hog Roast Westerham for example, we roast from a raw state in front of our customers eyes. Yes, it takes six hours, but no-ones in a rush with a beer or local kentish cider in their hand. This lack of being rushed is exacerbated by the fact that our hog and spit roast services are a thoroughly sensory experience – pure enjoyment from start to finish in Hog Roast Waddington or anywhere in Kent.
"What ever your event may be (birthday, wedding, christening) we are here to help and we will travel far and wide to make your wishes come true!"
Areas in and around Kent we offer hog roast catering:Ashford, Broadstairs, Canterbury, Chatham, Chislehurst, Cranbrook, Southborough, Deal, Dover, Faversham, Folkestone, Gillingham, Gravesend, Herne Bay, Hildenborough, Hythe, Maidstone, Margate, Orpington, Ramsgate, Rochester, Sandwich, Sevenoaks, Sidcup, Sittingbourne, Dartford, Staplehurst, Swanley, Swanscombe, Tonbridge, Tunbridge Wells, Wadhurst, Whitstable.
We provide hog roast catering for parties, weddings, corporate events and Christmas dinners across Kent, and bring a great deal of craft, effort and expertise into every job we do. We use a state of the art hog roasting machine for all our jobs, and that helps us to cook the best spit-roasted pig imaginable, which means crispy crackling, tender meat that comes straight off the bone and, as it cooks the meat slowly, the meat won't burn or dry out like it can do when cooked in a normal oven. For each type of event we cater for, we have a tailor made menu that fits each occasion. Our bespoke wedding menu features a range of gourmet starters that symbolise everything that wedding food should be. The hog roast party menu consists of everything you need to stimulate conversation at birthdays, christenings, retirement parties or even anniversaries, while the corporate menu does pretty much the same, while also providing relief from the tedium that can sometimes happen at corporate events.
One of the most popular menus our customers go for is the party menu, and we do our very best to make sure that the food we prepare, cook and serve at their parties is of the highest possible quality, as the standard of what there is to eat can help determine whether your party is a success or a failure. If you've hosted a party for, say, someone's birthday, it can be very difficult to get the food prepared. You want to make sure you've got enough for everyone, cater for anyone who has allergies or doesn't eat meat, get everything prepared in time and make sure you don't go over-budget. Thankfully, ordering one of our five options from the extensive Party Menu will help you avoid having to go through the potentially painstaking process of doing all things food-related yourself. We come to your party (on time), prepare, cook and serve everything, from the sauces, starters and bread rolls to the spit-roasted pig itself, and we'll get it all done with the minimum of fuss. Our options range from the simple 'Pig in a Bun' menu, which features a spit-roasted pig, bread rolls, home-made apple sauce and crispy crackling, to our more extravagant Hog Roast Gourmet Dining Menu, which offers a range of starters, sides, salads, your choice of dessert, and on top of that, your choice of spit-roasted meat. You can choose from either a hog roast, lamb, beef, two whole turkeys, four whole chickens or our vegetarian options. Whatever your choice, you'll come away more than satisfied after having a top notch feast.