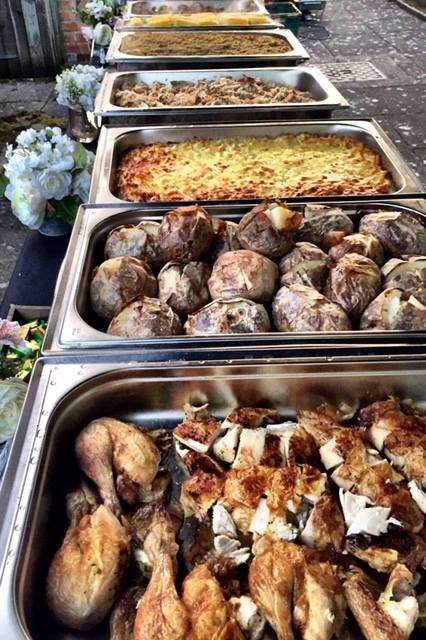 Manchester is a city with a population of nearly half a million people. It was the world's first industrialised city, the home of the first ever passenger railway station and was the site of the first successful attempt to split the atom. With such a strong reputation for innovation, we could not have chosen a better starting point. Now with over thirty year's experience, providing excellent catering for all types of events, we can proudly boast of being, not just the first, but the best. Whatever event you require catering for, Hog Roast Manchester is the company you need. We offer a selection of menus for all occasions, each one more delicious than the last. Whether your next event is a business function, a private party, a charity fundraiser or your wedding day, we have a range of menus and styles to suit all palates. Taking the most ancient form of cooking and giving it a contemporary twist, we combine the timeless art of flame roasting meat with the modern desire to provide, not just the choicest dishes, but also exemplary service (And we even clean up afterwards!).
From our most basic menu, roasted pig and crackling with soft floured rolls, apple sauce and melt-in-the-mouth stuffing, to our more deluxe offerings, which include a range of roast meats, from spring lamb to seasonal turkey, and the option to add freshly prepared chef's salads, there really is no better. Or, for that really special occasion, why not choose one of our menus that include a selection of canapes to get the party started? Should you be hosting a party for six people or six hundred, we have a menu to suit your needs. And with our fully trained and dedicated team of front of house staff working alongside our creative chef's, we offer nothing less than perfection.
Here at Hog Roast Manchester, we understand that a person's wedding day should be unforgettable, and the catering can contribute significantly to the whole experience. That's why we have been lucky enough to be involved in many weddings, and would feel privileged to be a part of yours. Whatever your plans for that special day are, we can help bring that little bit extra to your celebration. We have five separate wedding menus, and can include vegetarian options and a whole range of home-made desserts. Should you be planning a summer wedding, we will include gazebos for comfort and shade whilst dining, or for indoor events we can provide serving tables. Whether indoors or out, we will always provide first class food, and service from our team of highly skilled servers. We don't just provide the food, but the whole dining experience. Make your wedding a truly unique experience, without lifting a finger. Imagine the looks of anticipation on the faces of your guests as they catch the succulent aroma of slow-roasting spring lamb with rosemary, and the satisfaction as they realise it has been cooked to perfection, thanks to our state of the art roasting machines. Couple this with colourful fresh salads and follow with a smorgasbord of luscious desserts to die for, and you could not ask for more.
Or, maybe you are looking to impress colleagues or potential business partners? How better to show a long-standing commitment to tradition paired with an ability to work outside the box, than to cater for your next corporate event with a hog roast? Offering not just top quality food, but an opportunity for an unrivalled dining experience, Hog Roast Manchester is the ideal choice to cater your next business event. Taking the bored out of the boardroom, our spit roast meats and choices of side dishes can really spice up a corporate event. With a variety of options available, you can decide to have a simple but interesting lunch or dinner, an all day buffet or even a sit down event, with canapes to start, followed by our trademark roast meat and salad, and finished of with an array of mouth-watering desserts that will really give people something to talk about.
"We can be as complex or as simple as you like, and you won't need to do a thing. Just choose a menu option, then sit back and let us do all the work while you get on with business."
In terms of the food we offer – it makes absolute sense that our hog and spit roast catered events are gaining fantastic traction and growth in the Manchester area. Due to being local, we know just what it takes to make great food and to crucially make our clients happy and satisfied. In our years and years in the hog roasting and spit roasting trade we have seen many hog roasting outfits fall by the wayside; and it is nearly always through trying to take shortcuts. In Manchester, however, people know good food when they see it and they also know poor food – taking shortcuts just doesn't work, nor should it work. At our events in areas such as Hog Roast Failsworth, we stand by our raw pigs as we spit them – the quality is there to see. As it roasts over dancing flames, our clients can see and smell just how good the food will be once it is carved by our skilled and qualified chefs onto their plates – in places such as Hog Roast Fallowfield for example. You see, we understand the area we live in, we know that when people have an event they expect it to be spectacular, not just average. That's why we put our all into the food we create and carve onto our clients plates. Great food and great service in areas such as Hog Roast Egremont and anywhere else, is just a phone call away.
Areas in and around Manchester we offer hog roast catering:
Ashton Under Lyne, Ashton-in-Makerfield, Bolton, Bramhall, Bredbury, Bury, Wigan, Horwich, Leigh, Manchester, Oldham, Platt Bridge, Ramsbottom, Rochdale, Stockport, Swinton, Westhoughton, Cheadle.
We think that a hog roast is the perfect catering choice for any and all occasions. There are many reasons why our special style of catering is a cut above the rest. First of all, we are dedicated to providing only the freshest ingredients possible. We have carefully cultivated good working relationships with all of our suppliers, so we know exactly where our food is coming from and we can guarantee that is fresh and healthy. There is nothing like the peace of mind you get when you hire a caterer that places a real emphasis on using fresh and local ingredients. Our hog roast Manchester catering team has many years' experience cooking delicious and succulent hog roasts and spit roasts for big and small events in the surrounding area. Every one of our team members loves what we do and this really shows through in the dedicated and reliable service that we provide to our customers.